WELCOME
Welcome to the website of this pretty English village. Preston on Stour is about four and a half miles south of Stratford and lies a short drive off the A3400 Stratford on Avon to Oxford road. This parish was in Gloucestershire until 1931 when it passed to Warwickshire; it was transferred from the Diocese of Gloucester to that of Coventry in 1918.
The village, unspoiled by new developments, is in the heart of a conservation area. Some of the houses belong to the Alscot estate which has for centuries been in the possession of the West family. The original mediaeval structure of the church has been altered at various times and now displays a mixture of architectural styles - it offers a glorious snapshot of the English countryside if you view it from the nearby hill overlooking the village. Its Cotswold stone exterior contrasts beautifully with the surrounding fields.
The village church, St Mary's, is also well worth a visit. It is rather like stepping back in time as you wander up the main footpath. Sheep are still used to keep the grass down and the yew trees date back half a millenium.
LATEST NEWS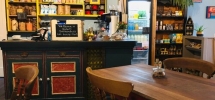 Friday 31st January 2020
The Village Shop & Cafe is Open - Come in and see us! 01789 450180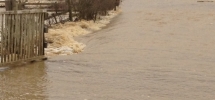 Wednesday 9th March 2016
If you want to keep an eye on the water levels on the Stour, you can!